Overview
Edit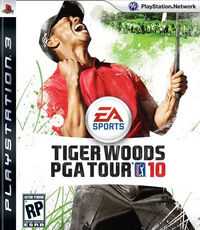 IntroductionEdit
The trophies for Tiger Woods 10 can be completed at any time, in any order. There are no trophies that can be missed during play. Trophies "Ten Thousand Ways" and "Big Money" are the only two that require more than 1 round of play, as they require some grinding to achieve. Other than that, the rest of the trophies can be obtained in a single round per trophy.

The best strategy is to create a custom course comprised completely of St. Andrews Hole #9, repeated 18 times. This will allow you to easily get 10 trophies with no major struggle.
Game InformationEdit
Genre: Sports
Release Date: June 6, 2009

Platinum Difficulty Rating (from PS3Trophies.org): 6.8/10
Estimated Time for Platinum: 40-50 hours
Number of Trophies: 21
Number of Offline Trophies: 15
Number of Online Trophies: 6

Trophies
Edit
Silver TrophiesEdit
Gold TrophiesEdit
Platinum TrophyEdit
Secret TrophiesEdit
Additional Info
Edit
Ad blocker interference detected!
Wikia is a free-to-use site that makes money from advertising. We have a modified experience for viewers using ad blockers

Wikia is not accessible if you've made further modifications. Remove the custom ad blocker rule(s) and the page will load as expected.