Play with the Big Boys (Silver Trophy)
Edit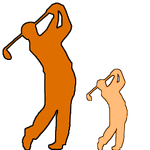 Description: Drive the ball 400 or more yards in the fairway in any Traditional or Online game modes.
Walkthrough: Use a golfer with a power rating of 11 or higher (e.g. Tiger Woods) and find a hole with an elevated tee (Bethpage #16 is a good one as it usually has a backwind). Make sure you have the wind speed set to "Gale Force", and from an elevated tee with a 25-34 mph backwind, your main concern should be getting your power boost up to 115-120% and keeping the ball in the fairway.
Est. Time to obtain: 10-15 minutes

Tip: Make sure to put top spin on the ball to squeeze out a few extra yards. If the ball lands in the fairway and you have hit it more than 400 yards, the trophy will unlock immediately.
Youtube Video
Edit
Back to Tiger Woods 10 Trophy List
Ad blocker interference detected!
Wikia is a free-to-use site that makes money from advertising. We have a modified experience for viewers using ad blockers

Wikia is not accessible if you've made further modifications. Remove the custom ad blocker rule(s) and the page will load as expected.