IntroductionEdit
MLB 09: The Show is one of the hardest platinum trophies to obtain. It takes a lot of patience, devotion, and plain luck to get all the way through. Platinum requires 4 main game modes: Road to the Show Hitter, Road to the Show Pitcher, Franchise, and Online League, in addition to playing a game in Manager Mode.
There are no trophies that can be missed, so the road map is up to you as to where you want to start.
Game Information Edit
Genre: Sports
Release Date: March 3, 2009

Platinum Difficulty Rating (from PS3Trophies.org): 8.5/10
Estimated Time to Platinum: 70-90 Hours
Number of Trophies: 30
Number of Offline Trophies: 27
Number of Online Trophies: 3

Trophies
Edit
Bronze TrophiesEdit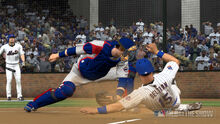 Silver TrophiesEdit
Gold TrophiesEdit
Platinum TrophyEdit
Secret Trophies
Edit
Additional Info
Edit
Ad blocker interference detected!
Wikia is a free-to-use site that makes money from advertising. We have a modified experience for viewers using ad blockers

Wikia is not accessible if you've made further modifications. Remove the custom ad blocker rule(s) and the page will load as expected.