From Bad to Worse (Silver)
Edit
Description
: Hit the ball from any bunker into a different hazard, such as a Water Hazard or Out of Bounds.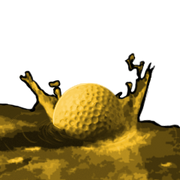 Walkthrough: Straightforward, hit a ball into a bunker, then hit that ball either into water or out of bounds. There have been some reports that this trophy doesn't unlock immediately, so if it doesn't work on your first attempt, keep at it and it should eventually unlock.

Est. Time to Obtain: 10 minutes

Youtube Video:

Ad blocker interference detected!
Wikia is a free-to-use site that makes money from advertising. We have a modified experience for viewers using ad blockers

Wikia is not accessible if you've made further modifications. Remove the custom ad blocker rule(s) and the page will load as expected.